Plug and Play, PIN and Pay
iPP320 PIN Pad is the fastest, safest, and easiest to install PIN Pad on the market. The iPP320 PIN Pad is a PCI PTS V3.0 certified payment solution with elegant design and simple operation. The iPP320 connects to the Cash Register for immediate installation and easy integration into existing POS systems.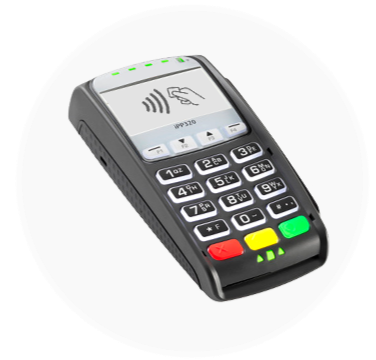 The iPP320 PIN Pad is a POS-ready solution with maximum flexibility, providing a secure payment processing environment that is flexible and convenient. Using advanced processing technology, the iPP320 is extremely reliable, boasting superior power and speed. It offers a robust EMV chip card reader, a magnetic card reader, and an integrated, upgradeable contactless reader that offers you the flexibility you need for processing all types of credit and debit card payments.
To maximize limited countertop space with a compact yet powerful processing solution, there is no better choice than integrating the iPP320 Pin Pad Solution. Allow your customers to process secure transactions with a fast, efficient and safe integrated solution.
Complies with the latest PCI PTS V3.0 safety standards
Compact design fits seamlessly into countertop POS systems
Provides the flexibility to accept any and all existing forms of electronic payments including: magnetic stripe, credit and debit, EMV Chip & PIN cards, stored value cards, and contactless systems (such as MasterCard PayPass and Visa payWave and Mobile NFC-enabled applications)
Multiple connectivity options including serial, USB and Ethernet, enabling seamless integration of the PIN Pad with your existing Point-of-Sale system
Equipped with a clear LCD display and a large 19-key ergonomic keypad with raised markings, iPP320 is a lightweight, stylish and simple payment interface
With a magnetic stripe, smart card and contactless reader, the PIN Pad is designed to deliver high performance and payment flexibility
Supports strong encryption, designed to protect confidential data reliably
EMV Level 1 and 2 compliant and PCI PED approved, the iPP320 supports the latest international security algorithms for state-of-the-art security
With 50% fewer components, iPP320 combines a number of hardware and software functions and is a convenient plug-and-play device designed to provide long-term reliability
Offers a number of connectivity options such as USB, serial (RS-232) and Ethernet cable to support your integration requirements
POS INTEGRATION
Offers a turnkey solution for Cash Register and POS System integration
POWERFUL PIN Pad
The iPP320 provides fast and secure transaction processing while providing comfort and convenience to your customers
STATE OF THE ART SECURITY
Provides a leading solution in secure data transfer and application management with PCI and EMV compliance
VERSATILE PAYMENT OPTIONS
Supports Interac, Visa, MasterCard, American Express, JCB, Chip and PIN, Gift Cards
Easy and affordable payment processing

"Fantastic experience with them. They were always available to answer our endless questions."
START ACCEPTING PAYMENTS NOW