The iWL220 is the perfect solution for restaurants and retailers who require payment processing portability. This popular "Pay-at-Table" device boasts a Bluetooth wireless range up to 200 feet from the base. Additionally, the high-speed terminal features a 30 line-per-second thermal printer and a high-contrast LCD display which allow you to process payments efficiently.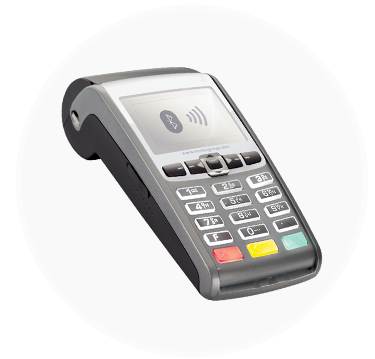 iWL220 shortens queue time and reduces back-and-forth inefficiencies resulting in better checkout services plus higher table turnover. With the iWL220, merchants can provide a wider choice of payment types including Contactless NFC, Credit, Debit, Gift & Loyalty Cards. It Integrates seamlessly with the store's POS solution (particularly in restaurants) and accurately identifies the table with the correct client balance to process card payments. The Pay-at-Table Wireless POS functionality allows the customers to monitor their payment processing at checkout rather than having the insecure feeling of having their card being taken away.
iWL220 accommodates a wide range of payment options including Chip and PIN, contactless and magnetic stripe. As an industry-leading solution for secure transactions, this wireless solution is designed to meet state-of-the-art security standards such as EMV and PCI.
Easy to use and install, allowing you to get-up-and-running quickly
Portability with Bluetooth wireless communication (up to 200 ft range) ideal for Pay-at-Table processing
Supports multiple transaction types: Chip-and-PIN, signature-based Debit and Credit transactions with magnetic stripe, and Contactless cards (Tap and Go)
Merchant Transaction Code can identify the waiter ID / table ID
Allows for entry of Gratuities of either a fixed amount or percentage of the invoice
Up to 3 terminals are capable of wirelessly processing with 1 base unit
Audit functions available with end-of-shift and end-of-day reporting for management review
Personalized messaging can be printed on receipts for promotion purposes
High contrast backlit LCD display allows for clear vision
Approved EMV and PCI compliance
Bluetooth wireless communication reduces lengthy lineups at the checkout
IP connectivity for fast transactions plus Dial Back-up
WIRELESS BLUETOOTH CONNECTIVITY
Portability with Bluetooth wireless communication (up to 200 ft range) ideal for Pay-at-Table processing
STATE-OF-THE-ART SECURITY
Supports the latest international standards for security, ensuring all information and data remains safe.
LONG BATTERY LIFE
Lithium-ion battery supports a full day of processing.
PAY-AT-TABLE
Reduce back-and-forth inefficiencies, maximize table turnover and customer experience.
BUILT-IN PRINTER
Allows receipts to be printed on the spot.
Easy and affordable payment processing

"Fantastic experience with them. They were always available to answer our endless questions."
START ACCEPTING PAYMENTS NOW